Shrink Machine
Before shipping , Wenzhou Lianteng Packaging Machinery Co.,Ltd.'sShrink Machine are packed with strong wooden case with waterproof cloth to avoid any damage.
Shrink wrapping is currently on the market more advanced packaging methods, it is wrapped in shrink film outside of the product or package, also argued mouth hot , so cooling and thus shrink packaging materials bind tightly to the product or package, it shows items appearance , improve product sales, so as to increased the sense of buaty and values, while packaged items can be sealed, moisture , pollution prevention, and protection of goods from outside the red bear, with a certain buffer ,especially when using glassware packaging, containers to prevent scattering broken, when in addition, can reduce the product are demolished, the possibility of film shrinkage was stolen a certain tension, so a group of items to be packaged to blind tightly played rope banding effect, especially for mutiple items in the collection and tray packaging , so the product is widely used in a variety of commodity packaging.

Features:
Common type shrink machine : 400*200 450*250 type , improved electrial control is set to change the uper from the lower part , the working enviroment better cooling , electrical and longer life, the church has launched a furnace thermostat type , the internal temperature uniformity , independent of voltage filoating influence , good energy efficiency , and with a conveyor chain, each set has a hot needle tube, the film easily stained , thiscontractionb thermostasic temperature control and electronic control of ywo , according to customer requirements, with there are high-profile tripod, the machine can be customized accoprding to customer size of the abject.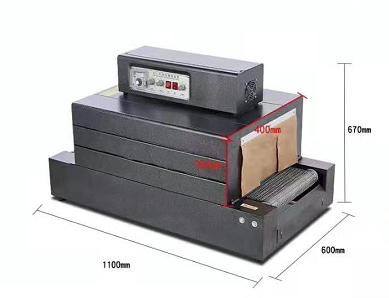 | | |
| --- | --- |
| Model | 400*200 |
| Voltage | AC 220V /380V |
| Power | 5.5KW |
| Donveryor loading | 0-10m/min |
| Shink size | 400*200mm |
| Deadweight | 5kg |
| Machine size | 1100*600*630mm |